<< Back to trays and mounts index
Switch Trays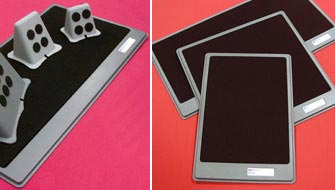 iPad slipping? Our small switch tray is the perfect solution!
Cushioned for comfort, a switch tray holds switches or switch mounts firmly in almost any position. Ideal for use with an individual or in assessment situations where a wide variety of secure switch positions need to be tried. Note that the Switch Tray is now available with a black material only. We can now offer three sizes:
The original desktop tray with an overall size of 540 x 290mm. Shown here with switch mounts (not included).
The new medium tray which fits many wheelchair trays has an overall size of 350 x 350mm.
The new small tray has an overall size of 240 x 360mm (pad is A4) and is ideal where space is limited or for a single switch user.
| | | |
| --- | --- | --- |
| Large Maxess Tray | Order code: LTRAY | £49.28 ex VAT |
| Medium Maxess Tray | Order code: MTRAY | £45.08 ex VAT |
| Small Maxess Tray | Order code: STRAY | £38.17 ex VAT |
| | | |
Prices do not include carriage. See ordering information.
©2021 Maxess Products